Geoff Badenoch's Village of Missoula, Montana
Plato in "The Republic" states that everyone has a village. As Director of Missoula Redevelopment Agency for two decades, Geoff led many decisions for downtown Missoula's transitions and growth, and he especially enjoys the ongoing successes from the mid-1990's projects of the trails and the riverfront parks.
Private Collection of Geoff Badenoch, Owner
16″ x 16″ x 2″
Acrylic
I look at this painting on a daily basis and it never ceases to delight me. The many hours I spent conversing with Pamela as she thought about the painting and how it arose from the high points of my life was a time of great insight. I can't thank her enough for her care and devotion to getting this painting just right.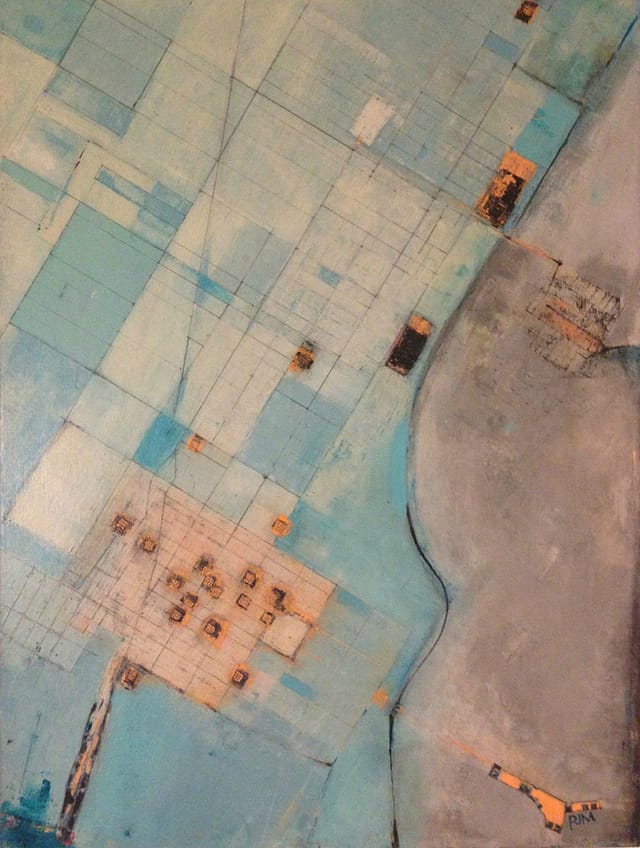 Valerie Was Wearing A Pale Orange Dress
Valerie was wearing a pale orange dress when she and Bob met. Thus, began the story of their East Village romance and commencing marriage. Bob lived on E. 7th. Valerie lived on E. 10th. They would meet at the produce market between their respective apartments. This painting depicts their life in the East Village and the other places in New York City that they frequented. This is their New York City, c. 1988-2015.
Private Collection of RS, Owner
18" x 24" x 2"
Acrylic and graphite