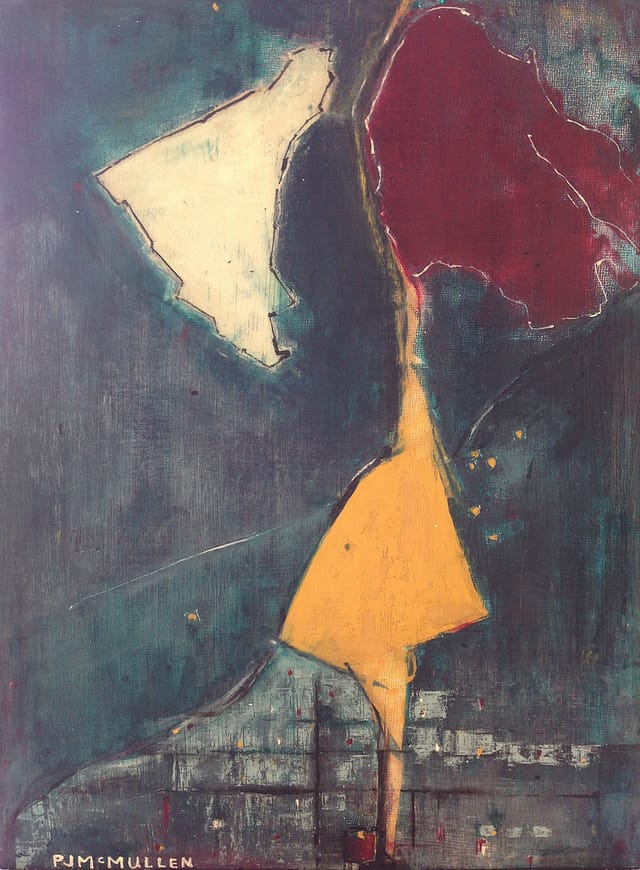 Welcome Watiemeh, Semih, and Akeem
The parchment and crimson configurations at the top of the painting are abstractions of the northern regions of Ghana where Awenlue and Anthony Karbo have tribal ancestors. In yellow, and birthed from above, is an abstraction of Tema, Ghana, where they reside. Held and grounded below the yellow Tema is the geometry of a NE Portland, Oregon neighborhood where Awenlue grew up.
Private Collection of Awenlue and Anthony Karbo, Owners
9″ x 12″ x 1½"
Acrylic
Welcoming our baby to the world was one if the most amazing feelings that we have shared together as a new family. Our experience with Pamela and the mapping studio was awesome! She was able to tell our unique story with this incredible piece of art that told a story of our history, our journey and defined our love… A breath of fresh air to rejuvenate life! We are grateful to Pamela for making a piece so unique and dear to our hearts. Thank you Pamela for your kind gift. We love you!
[The title of the painting was originally Welcome Watiemeh, yet on 12/31/16, when his brothers were born, we included them in the title of the painting–Welcome Watiemeh, Semih, and Akeem!]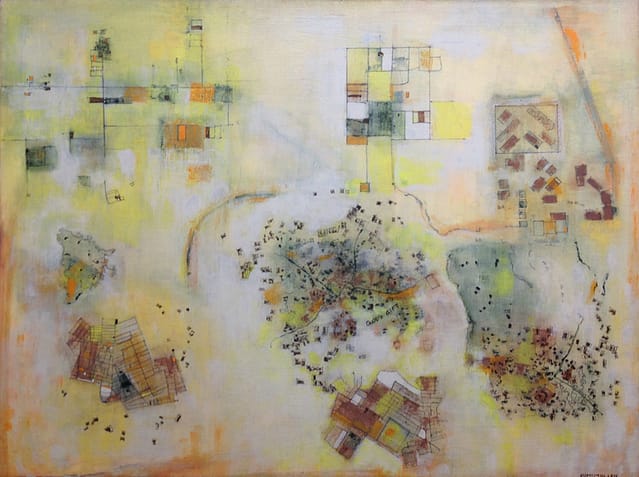 God's Gift, for Charles
This is the love story of Wentemi and Charles told through the places important to them and to their story–Portland, Oregon, and surrounding towns; and various places in Ghana, West Africa, where they both have familial roots. Wentemi, meaning "God's Gift" in Buli, surprised Charles with this collaborative painting for the sweet occasion of their third anniversary. Surprised, he was!
Private Collection of Wentemi Kante and Charles Martey, Owners
18″ x 24″ x 2″
Acrylic and graphite
It was a pleasure of mine to work with Pamela. Pamela and I had many conversations about our love story and the significance of each location in "God's Gift". I really appreciate Pamela's intricate sense of detail. Her knowledge of architecture was special to me because I believed that she was the right artist for our piece. I am so thankful to have this beautiful piece in my home. Thank you for creating a visual piece of our love.
This abstract bouquet is the love story of Aze and Paul, who met at "the bank" in downtown Brooklyn, New York, the geometry of which is at the base of the painting serving as its stem and which is nourished by the surrounding rich, earthy dark greens. Progressing up from the stem, the painting expresses the geometry of the most important places of their love story and in their favorite colors, culminating in the heart of the painting which is their home in upstate New York. Aze loves Coco Chanel, who, while developing Chanel No. 5, directed her perfumer to create an abstract bouquet, an apt compositional structure to express the blossoming of Aze and Paul's love.
Private Collection of ampm, Owners
Acrylic and graphite
18″ x 24″ x 2″
Thank you for making a really cool rendition of all the truly most important places in our lives. I really love it, especially the way it's mapped out, which makes it easy to remember each landmark.